SUCH a busy week(end)!!!
I'm soooo tired. And I've been tired for well over a week. Only because I've been doing a lot of things since May 15. I think last week has been the busiest week my whole semester. Really.
Friday, May 15
-My friend Roy directed The Devil's Advocate. And because RoyBoy is my homeboy (haha) and since I love the movie, I had to be there and support!
-After the show I went out to dinner with my dance friends.
-For dessert we went to Menchies, which is this self-served yogurt place.
Saturday, May 16
-Regular day with dad. We went to see...Angels & Demons, I think. Yeah. I was glad Tom Hanks' hair was better in this movie, unlike the last one. I think I paid more attention to his horrible hair than the movie itself. :/
Monday, May 18
-Second showing of Mean Girls. Fuj needed to re-tape it so there was another performance. I went up to support my drama friends, and especially Kam who was Aaron Samuels in the show. :P It's so funny how he has fangirls. Haha.
-Tiana and I went to Pearlridge for a little, walked around a bit and got dinner.
-Then we had dessert at Yogurtland. Mmm, Yogurtland. Another self-served yogurt place. Apparently it's the hip thing now, because there's also Orange Tree. I haven't been there yet, but I did send in an application last month...and didn't get hired. Lame.
Tuesday, May 19
-Got up at 6:45 am to get ready to go to the beach. We had to leave early because we were going to Waimea, and that place gets crowded by 9:30, and Tiana had to pick up everyone, and the drive out there is kinda long. Ish. But we got there just in time when it wasn't too crowded and we had our pick of parking.
Wednesday, May 20
-Tiana came over at 4:00 pm to work on the banner we were gonna make for Noelle's birthday on Saturday. I was gonna do graffiti letters and draw this girl holding a boombox. Tiana drew two Converse shoes to put on the banner too. We had dinner, did several practice runs of spray painting the banner, and I think Tiana finally left after 11:00 pm. I wasn't even done with just drawing my picture, let alone coloring it in. Yikes.
Thursday, May 21
-Finished drawing the picture. It took a while. Also, I tried coloring in most of the picture.
Friday, May 22
-Went to Ross to find something to wear to the grad parties this summer. I don't really have "nice casual" clothes to wear to places. So I kinda needed to find something.
-Stopped at Walmart to find paint to use for the border of my drawing.
-Finished coloring the drawing, and worked on the frame. The frame was annoying because I had to tape scratch paper to create the straight lines for the frame.
Saturday, May 23
-Woke up at 5:30 am in the frickin morning!! It was so ridiculous. Last time I did that was in high school. Shit. Tiana picked me up, we got Kaui, got Casey, then drove all the way out to Ewa Beach to get Kameron, THEN headed to Salt Lake to Noelle's apartment. We decorated the back of Tiana's van with streamers, then Aunty Lisa let us in and we sneaked inside to decorate the living room area. When Noelle came out and saw us, she freaked. She just froze there, and said "what are you guys doing here?!" It was classic. We took her to eat at iHop, and that took waaayyyy too long for us to get our food. But there was this waitor that the girls were eyeing up. Haha.
-Went to Pearlridge and killed some time, then dropped Noelle and Kam off at Noelle's apartment. They were going to St. Louis graduation, and we made Noelle believe that that was all we had planned for her birthday.
-The four of us went to switch cars and got Casey's truck, then went to a carwash. We sang to the "Do You Know" song from that Rob and Big episode. Hehe. Then went to Dole to get pineappley treats. Ate lunch at Kono's and had delicious kalua pig. Mmm.
-On our way back we went to Walmart to get window chalk to write stuff on Tiana's van. Came back to my house, which is where Tiana's van was parked and wrote in the van. Then we took off for Blaisdell to St. Louis graduation and had to wait around for Noelle. That took a while.
-Got everyone and went to Genki Sushi for dinner. GOOD TIMES! So much laughter, I'm pretty sure everyone thought we were obnoxious.
-Went to go watch Dance Flick. I thought it was gonna be funnier than it really was, but it was all right. The Twilight ending was fucking hilarious though. I kinda almost fell asleep though. I sat next to Kam, and we were both leaning in on the same arm rest, and I started falling onto his shoulder, and I think I was asleep for...20 minutes at least. I was so tired by then.
-And finally we all departed to go our separate ways. Casey drove me and Kam home, while Kaui got picked up by her overbearing parents, and Tiana and Noelle went to Tiana's house, in hopes of going to the rave. But since Noelle didn't have any ID they couldn't get in. Ah well.
Sunday, May 24
-Got up at 8:00 am so I could go with mom down to Price Busters when she dropped Steven off at work. But mom got the time wrong and Price Busters actually opens at 10, not 9, like how she thought.
-We had breakfast, then went back to Price Busters. I bought floaties to give the graduates.
-When I got home I had to shower and wash my hair because I was so gross from the day before.
-Went to watch Night at the Museum: Battle of the Smithsonian with Mika and dad. It was funny, I liked it. But I still think the first one is better, of course. And at least with this movie, you don't necessarily need to see the first movie in order to understand what goes on in the second movie.
-Asked mom to bring the floaties so I could return them. Then we went to Party City so I could find something else to give them. Because carrying more than 10 floaties would not be cool. Instead I found most of them some kind of funky sunglasses thing. Most of them got Sunglasses that had "2009", Drew and Randy (the twins) got ones that lit up. That was cool. I got two giant red cat-eye sunglasses for Nai`a and Brandi. And then I got two boas for Rayann and Sarah.
-Got Baskin Robins. Mmm.
-Went home to eat and get ready.
-Tiana got me at 7:45 pm then we stopped at Walmart so she could get something to give her friends. We also got them Arizona Iced Tea, because they were gonna be so hot and thirsty. Unfortunately I was the one that had to carry them all, along with the 14 lbs. of ice that went in the cooler. Fuck.
-Went to Yogurtland and tailgated in the back of Tiana's van. That was awesome. Also, because we still had stuff written on the windows of her van, everyone kept coming up to us to say happy birthday. That was funny.
-Finally we were on our way to Blaisdell and we had to wait for a while. It was hot. Like a sauna.
-THEN it was a battle trying to find everyone in there. It was ridiculous! But I found everyone except Nai`a, but I'll see her this summer to give her the sunglasses. I also saw a lot of my classmates, that awkwardly avoided me. Whatev, I mean I still said hi to people I didn't really talk to in high school. Because I don't understand why you have to be such dicks to people once you graduate.
-I finally got home a little after 11:00 pm, and I had to take another bath. I was so exhausted.
Unfortunatley this morning I woke up at 9:00 am, and I wish I could sleep in. Damnit. But I had to get up and do laundry because Mika never does it. It's lame. But yeah, I'm still real tired. and it's about 11:30 pm so I honestly should be sleeping. Which is what I'll do once I'm done. But I wanna share some of my favorite pictures from this weekend. I had fun, even though it was tiring.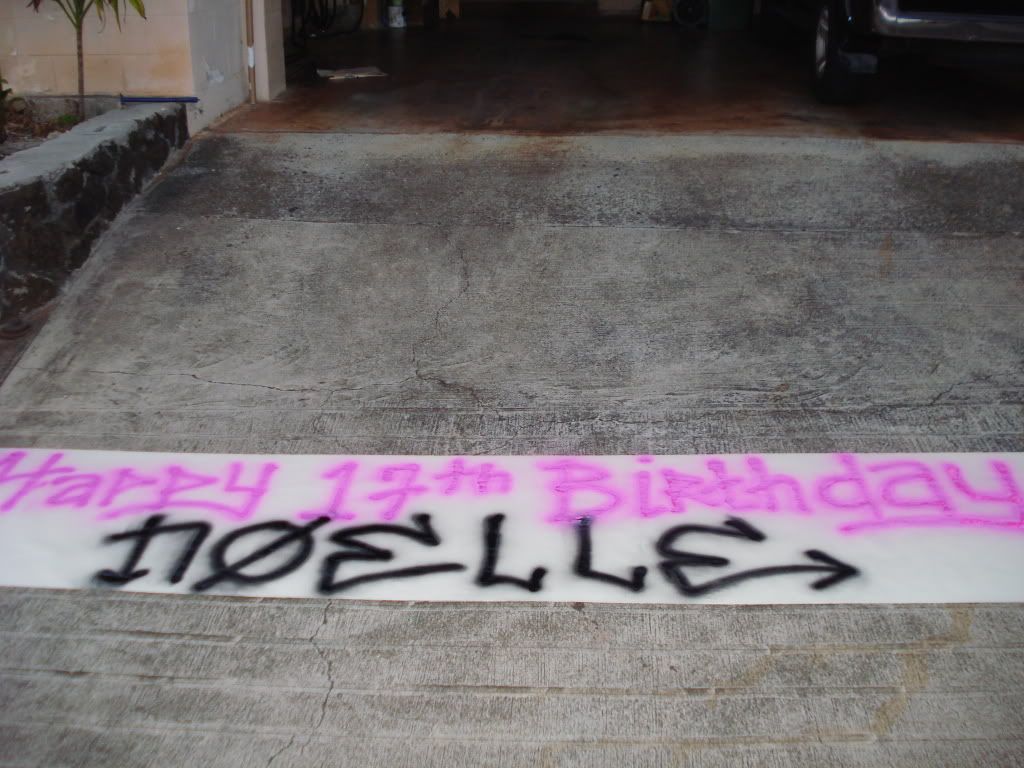 Pimp banner.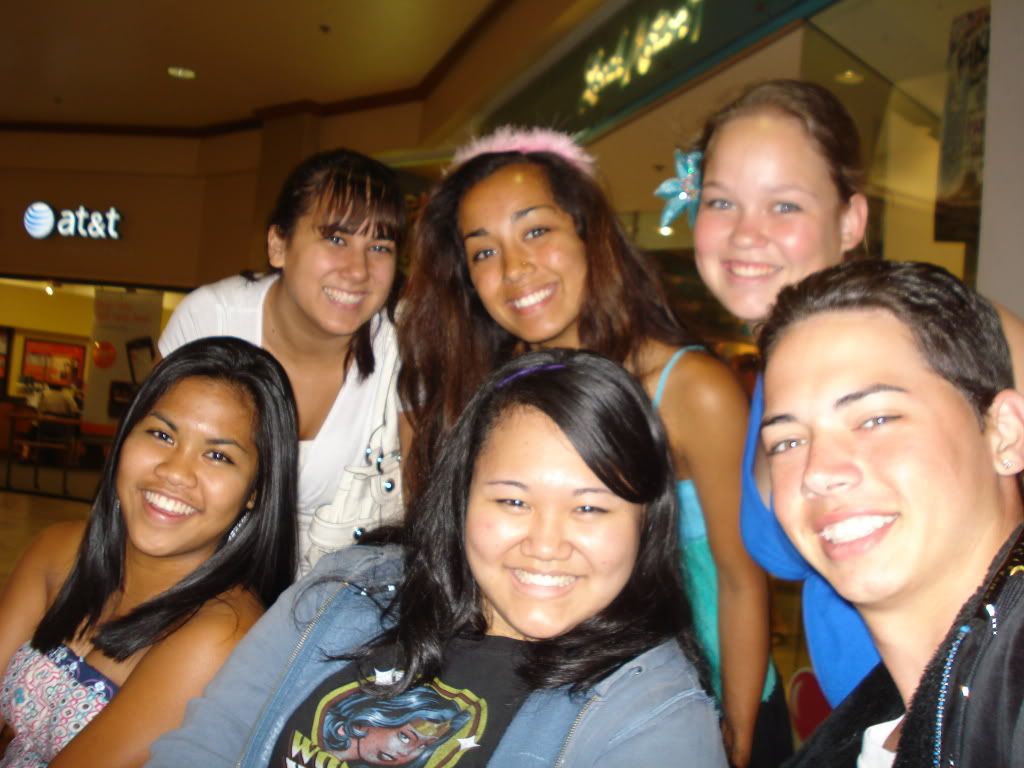 Cruisin at Pearlridge.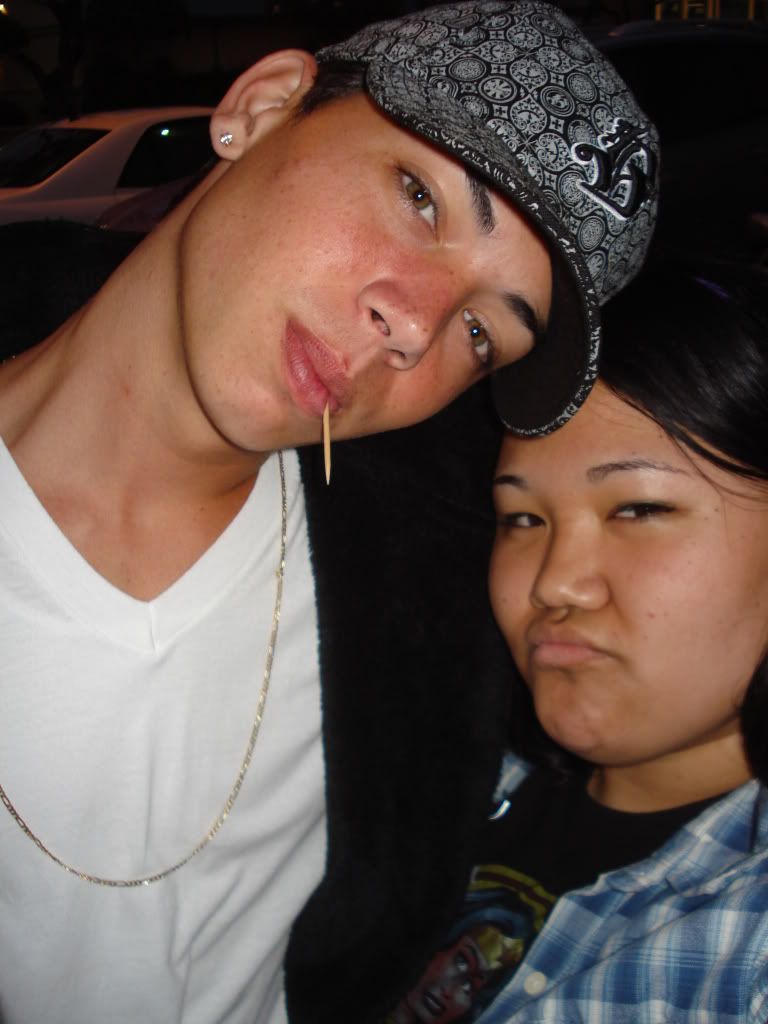 Kameron and I are pretty badass.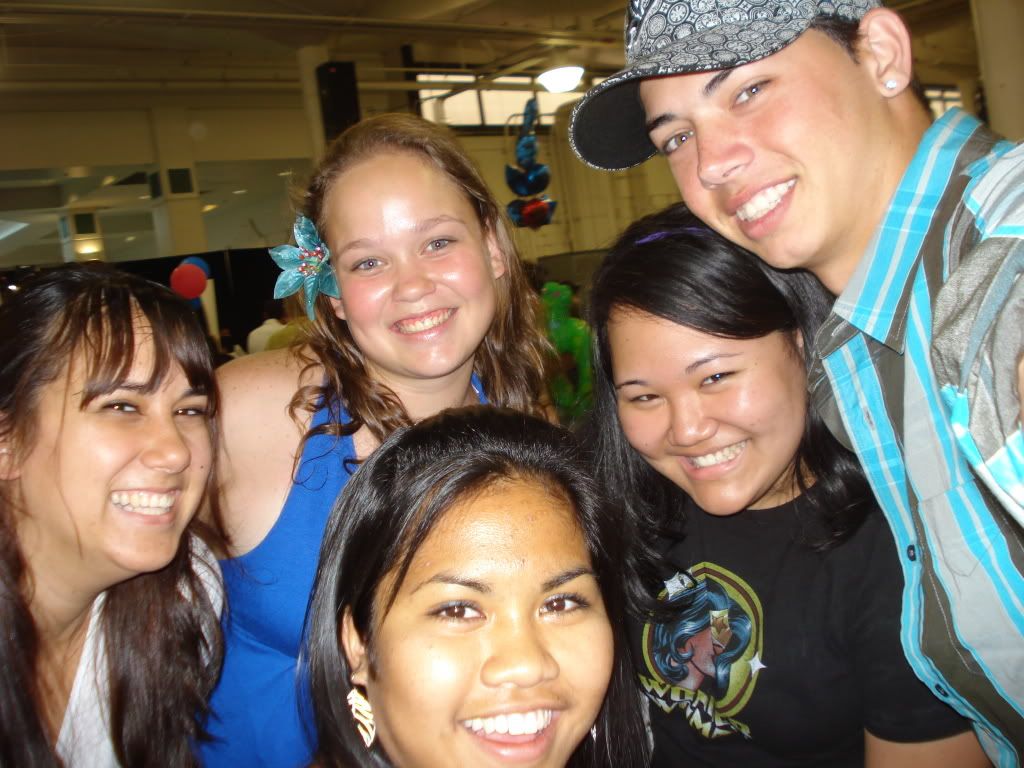 Waiting for Noelle.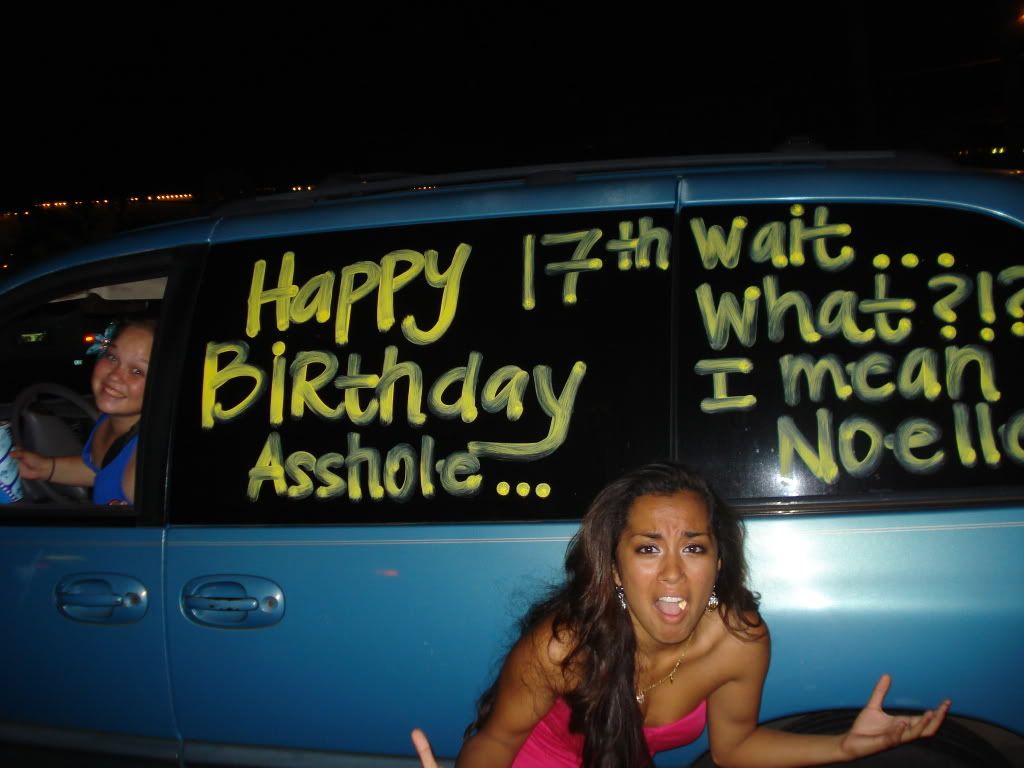 Yep, it says asshole.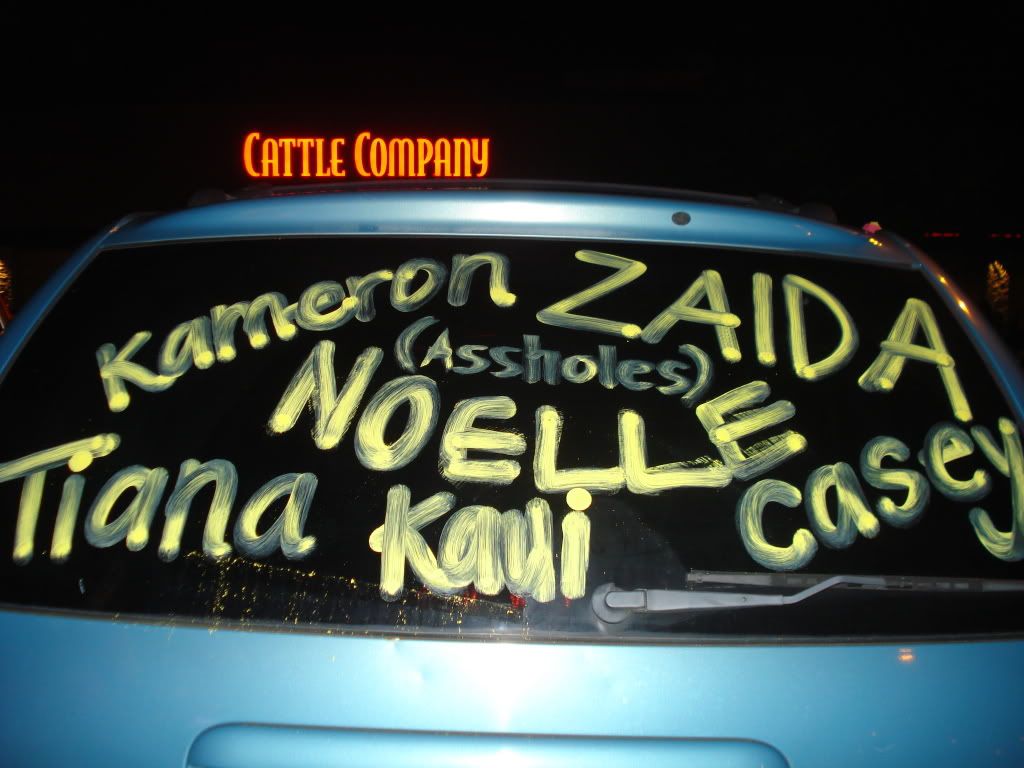 Members of the Asshole Club.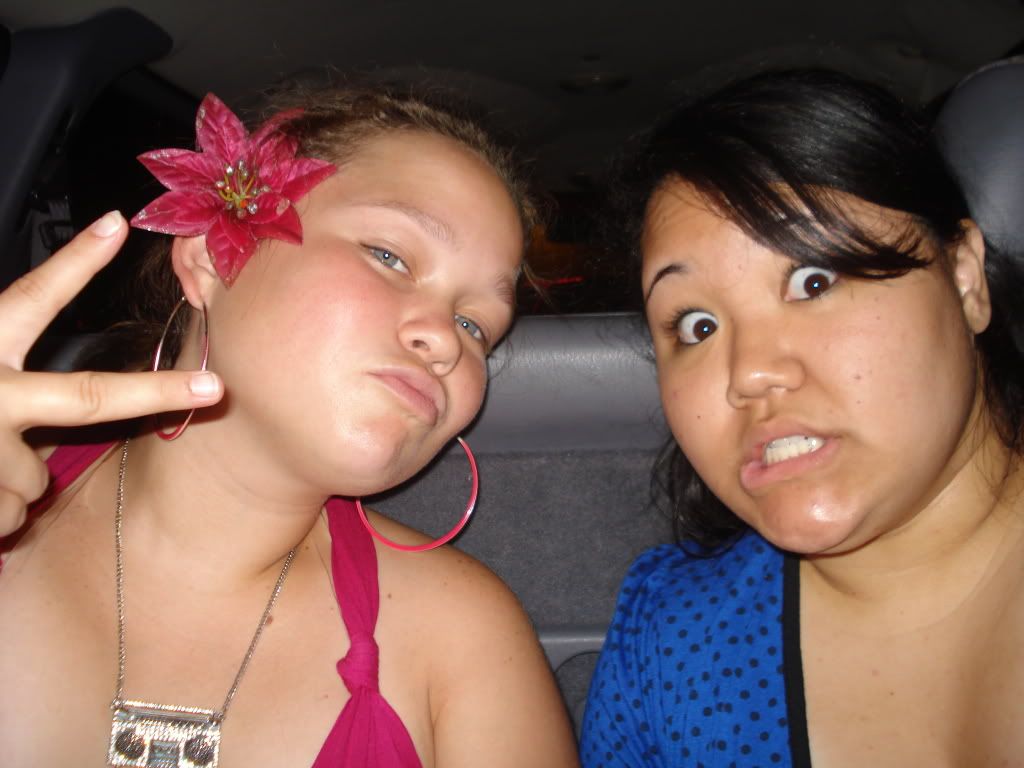 Tailgating in her van.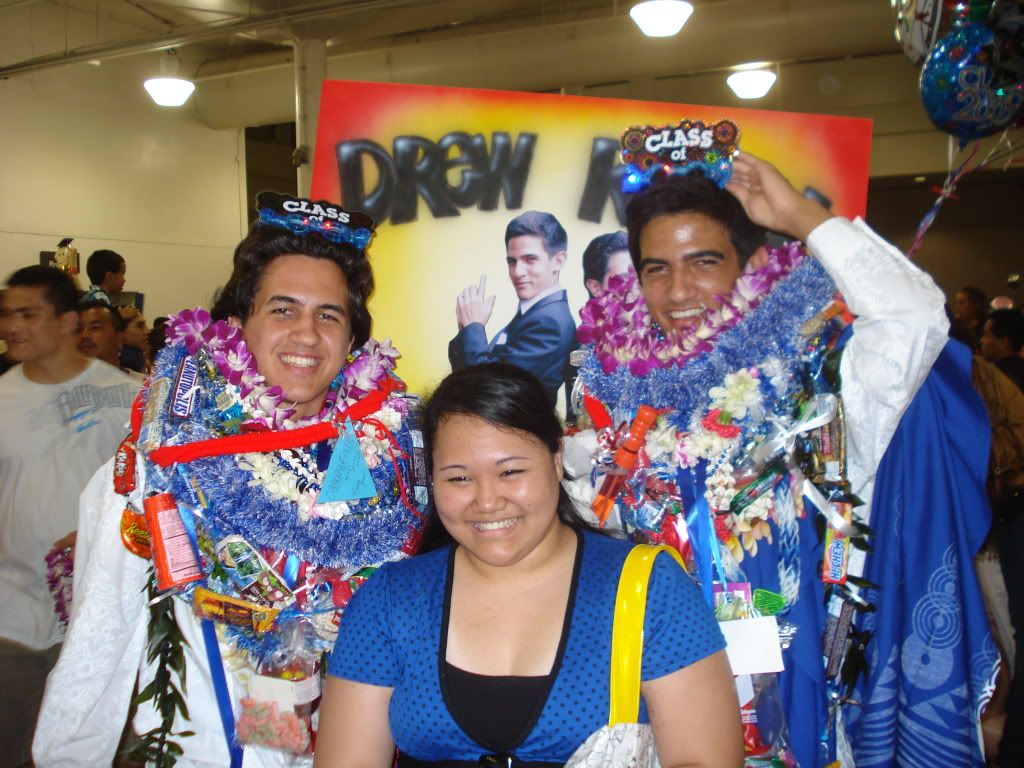 Twins!! I love Drew and Randy!
Megann! Wish I met her earlier than this year!
'Night folks. Peace out.