GOOD NEWS!!
I told my mom about visiting Linfield and she wasn't too pissed about it. She was just mad when she assumed that I was going to ask her to help me pay for it. Pssh, that thought never even crossed my mind because I know she never could. She didn't oppose to me going, so to me that basically means it's happening. :)
I'll give Jamika the for sure dates later tonight or tomorrow so she can get this ball rolling down the hill. :P
So did you know there's a song called "Punk That's Fuck" hmm? That was one of the song titles from the movie
Whip It
. Which, by the way, was pretty good. We went to go see it tonight after I was done with work (we as in TC, Tiana, Kuni, and myself). At first we were gonna see
Fame
, but TC and Kuni convinced me that it wasn't all that great, so
Whip It
was the next choice.
I liked how they didn't go with the generic cop out ending. That was refreshing. I think Drew Barrymore did a great job with her first debut directing movie. It had that indie-ish kinda feel to it, but it wasn't drowning in it, like I imagine
Paper Heart
would be like. But there was still that solid, movie foundation to it, that it wasn't overwhelmingly quirky or anything like that. Two thumbs up, Ms. Barrymore. :)
We also need to think of derby names. Yeahhhh.
And shit, each time we end up at Anna Miller's there's always some story that comes out of it. We laughed so hard tonight, about things I can't even remember because there were so many highlights! We cleared out the place, really. We sat down and immediately started laughing and talking, having a good time, then within 15 minutes EVERYONE was gone! It was like magic.
It was great to people watch after and notice the chronics a few cars down from us, which was also the group with the ho bags and mack daddy pimp that had two girls! TWO of them! There were also two drunk skanks, not related, and a woman who tried to park her car in the stall that we were standing in! All in all, it was a good last minute outing.
Last night, no, this morning I was tired as fuck. Goddamn. I got home after 4 and had to shower and wash my hair. It was real hard to stay up so I fell asleep with wet hair, which I NEVER do. Although I did get my second wind once I started telling the story about the last day of 8th grade...but that's for another post. Sometime later.
Storytime Saturday:
The Berenstain Bears and the Messy Room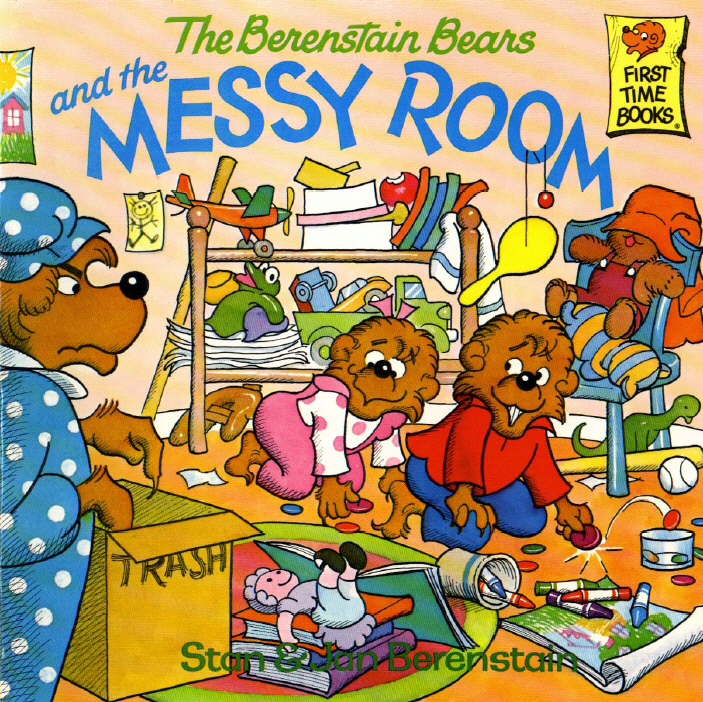 Remember these??!! We had a bunch of
Berenstain Bears
books (triple alliteration!) around the house when I was younger. And I specifically recall having this book, which was bought for Mika because even as a young kid she was a slob; and has upheld that title till this day.
I actually started rereading Sarah Dessen's
Along For The Ride
sometime this past week. It was just sitting here on the counter for the longest time. After I finished it over the summer I guess it never made its way onto my shelf in my room. So I just stated on the first few chapters again. Reading is nice.
♫

Song of the day

♫

:
"You'll Always Be My Baby" by Sara Evans