Winter Waves of Hawai`i
The winter season here in Hawai`i is unlike the stereotypical idea of winter in other places. People are still dressed in shorts and slippers ("flip-flops" for mainlanders), no snow but tons of sunshine and some rain -- always ending with a rainbow, and the best weather conditions for big-wave surf competitions.
The Vans Triple Crown of Surfing Competition is a three-pronged competition including: Reef Hawaiian Pro (Hale`iwa), O'Neill World Cup of Surfing (Sunset Beach), and Billabong Pipeline Masters (Pipeline). All three contests make up weeks of competition and great surf. Currently the Pipeline Masters are still being held and will claim a winner within a week or so.
The challenging thing about these annual surf contests is that you can never predict what the weather will be like. For most, the contest can only be held when the waves reach a certain height and the sets are relatively consistent. Thankfully, though, this year the weather has been
maika`i loa
(very good), which allowed for the biggest and most prestigious surf contest here in the islands to go on.
The Quicksilver Big-Wave Invitational in Memory of Eddie Aikau was a go on December 8. With waves over 40', it was perfect for "the Eddie" to take place at Waimea, which has only been held eight times in the past. The last time the contest was held was back in 2004, and this year marked the 25th anniversary of the competition. For those that don't know, Eddie Aikau was not only an acclaimed surfer, but he was also the first lifeguard on the North Shore at Waimea Bay that saved people from waves that no one else would attempt to do; trademarking the well-known phrase here in Hawai`i, "Eddie Would Go." Eddie risked his life in 1978 when he attempted to seek help after the voyaging canoe Hōkūle`a capsized. He tried to paddle to Lāna`i but was never seen again.
This year first place went to San Clemente native, Greg Long, beating out world champions like Kelley Slater and Sunny Garcia.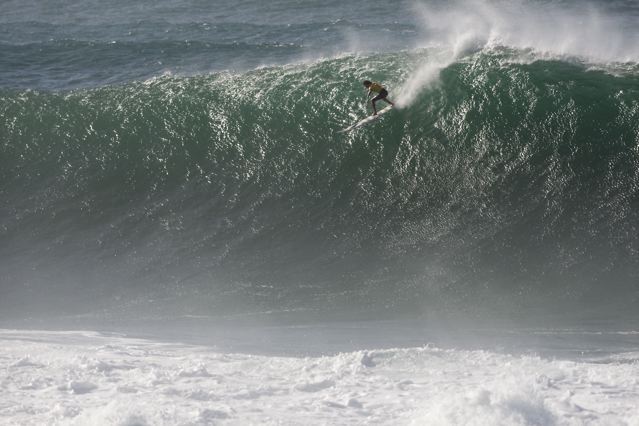 Greg Long catching a massive wave
Surf competitions bring all sorts of people from all over the world to the shores of Hawai`i. An older couple (mid-50's) I met a few weeks ago when I went to watch the O'Neill World Cup said that they first visited Hawai`i in 2008 to see some surf contests. They stayed here for about a month, going to watch as many competitions as they could, loved the atmosphere, food, and people. Three months later they moved from Montana to the North Shore to, "Grow old together a real life paradise." How rad of a story is that?!
Would you travel to go see a competition of some sort, like the Olympics, or the Super Bowl? Or maybe visit the Aloha State for a sunny winter wonderland?