Saying goodbye...
Again. I hate this part.
I think my trip back to Linfield was really good. I had a great time being around the people I missed the most. And even though I didn't see some people, didn't get to hang out and party with others, overall I'm really satisfied with this visit.
I can't thank you guys enough for everything you've done to help me get here.
You guys really don't know how loved I feel, and especially being back here, having everyone tell me it's like I never left, I haven't felt this way in a long time.
The timing of things are just so cruel and ironic sometimes. And this trip was definitely needed for me right now. Going back home...I don't even wanna think about what it's going to be like. But I have to face it sooner or later.
But somehow, eventually, I will find my way back to see everyone again. For sure.
♫

Song of the day

♫

:
"She's Got A Way" by Billy Joel
The funny thing about this song is that while I was visiting, Brenna said that "there's something about you, Zaida. You've got a way of just embracing the people you meet and making them want to be friends with you." And this song seems to be perfect right now. :)
I love you guys. Miss you already. Thanks again, for everything.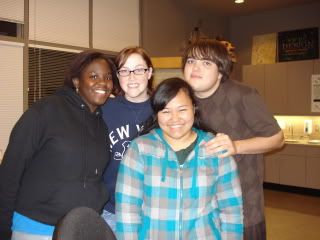 <3
::[e][d][i][t]::
This lady sitting by me in the terminal just took a picture of me and my laptop. Apparently she's got a 15 year old granddaughter who visited HI a couple years ago and loved it. And she just got a laptop, which is what this lady noticed, my laptop with all the Hawai`i stickers on it. So she took my picture, which was kinda neat. :P The people you meet in an airport, right?