I caught the bus into town for Joseph Gordon-Levitt
AND IT WAS SO WORTH IT!!!
(500) Days of Summer was reallyyy good! I'm glad it finally came out in HI, although it's only at 3 theatres. So Amanda and I had to catch the bus down there, all the way into town! But I did it for Joe. Because I <3 Joe and I knew I wouldn't be disappointed in his movie. And I wasn't! It was funny, for the most part. And they didn't go too heavy on the romantic chick flick stuff, so it was tolerable. You definitely feel for Tom (Joe's character) throughout the movie. And his sister is super fun too, she might be my second favorite character in the movie. So go see it if you have the chance! I'm mos def gonna buy it when it comes out. :)
I hate it when you get sunburned (or is it sunburnt?) and it's red at first and it hurts. Then it starts to itch before it peels and I HATE it when it itches! Because when you scratch, or even rub, which is what I do, it hurts. A lot. It's so annoying. Ergh.
"I ain't sippin on a mixed drink, pinky out, lips pink / talkin to a rich skank filled up like a sperm bank / i'mma go where i always go, drinks are on the house / whiskey's on the rocks while your sister's on my mouth"
Even though they are so mainstream right now, I really like 3OH!3. That's my favorite verse from their song "Richman." They're coming to HI. I think they're having a signing or something at Hot Topic on September 29, and then they're having a concert on October 1. I really wanna go to both. Especially since I missed Boys Like Girls this past week.
Also. I want new purple sunglasses. I have the purple plaid ones I got as my Asshole sunglasses, but I want different ones that are just my own. So here are my choices: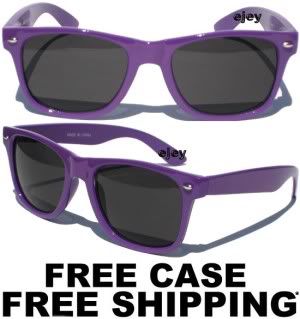 all purple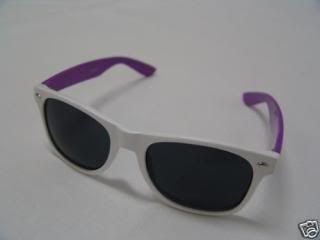 purple and white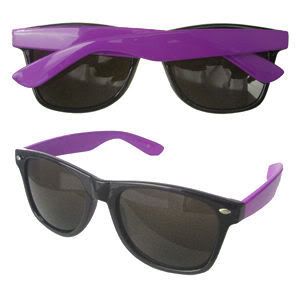 purple and black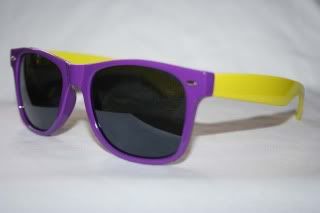 purple and yellow. i have decided i need more color in my life, but i'm Asian, and i hear Asians shouldn't wear yellow? plus this is kinda Filipino. :P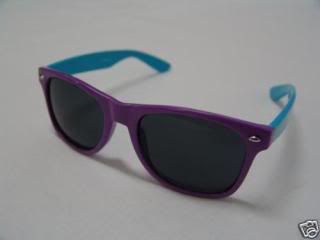 purple and baby blue.
WHICH ONE(S) SHOULD I GET??